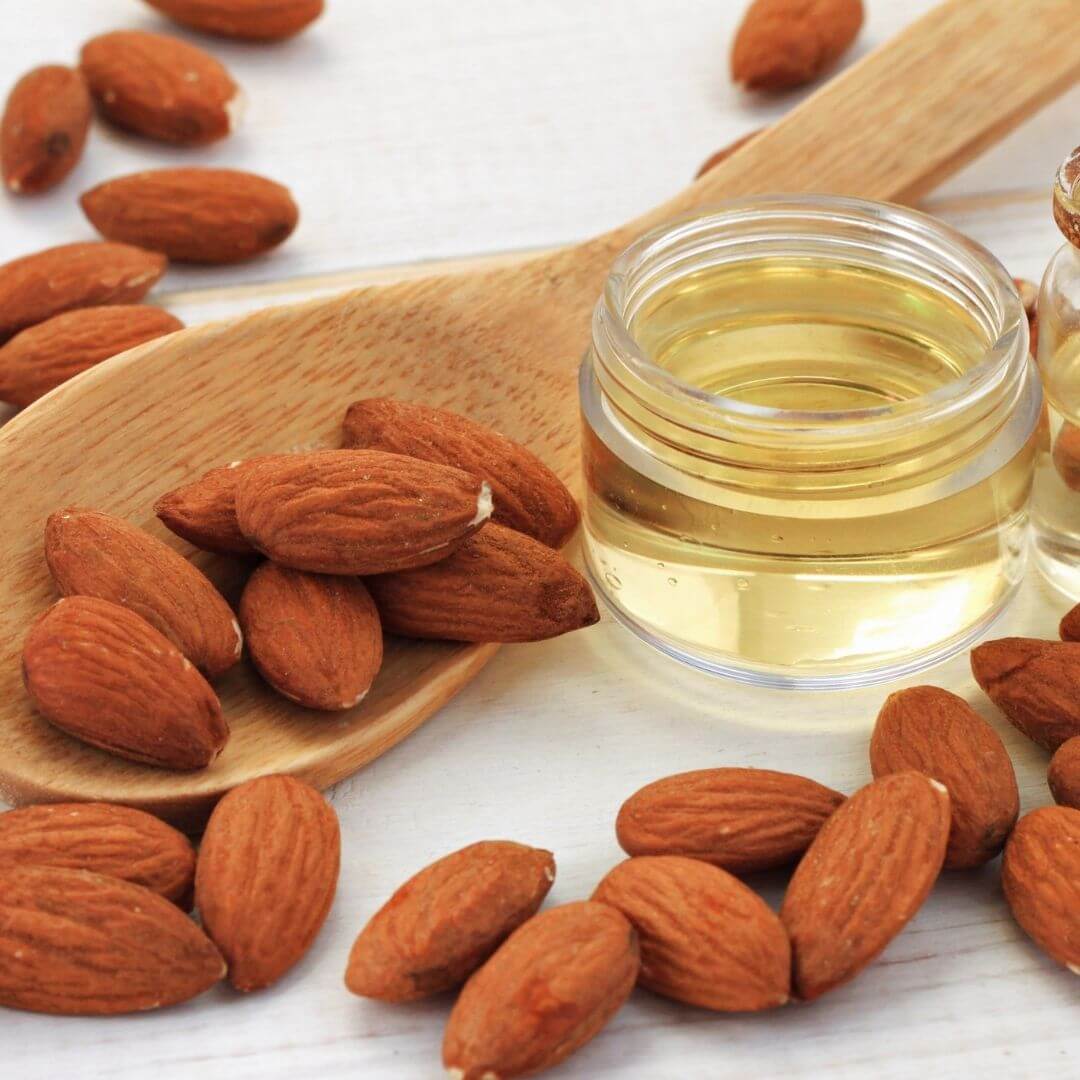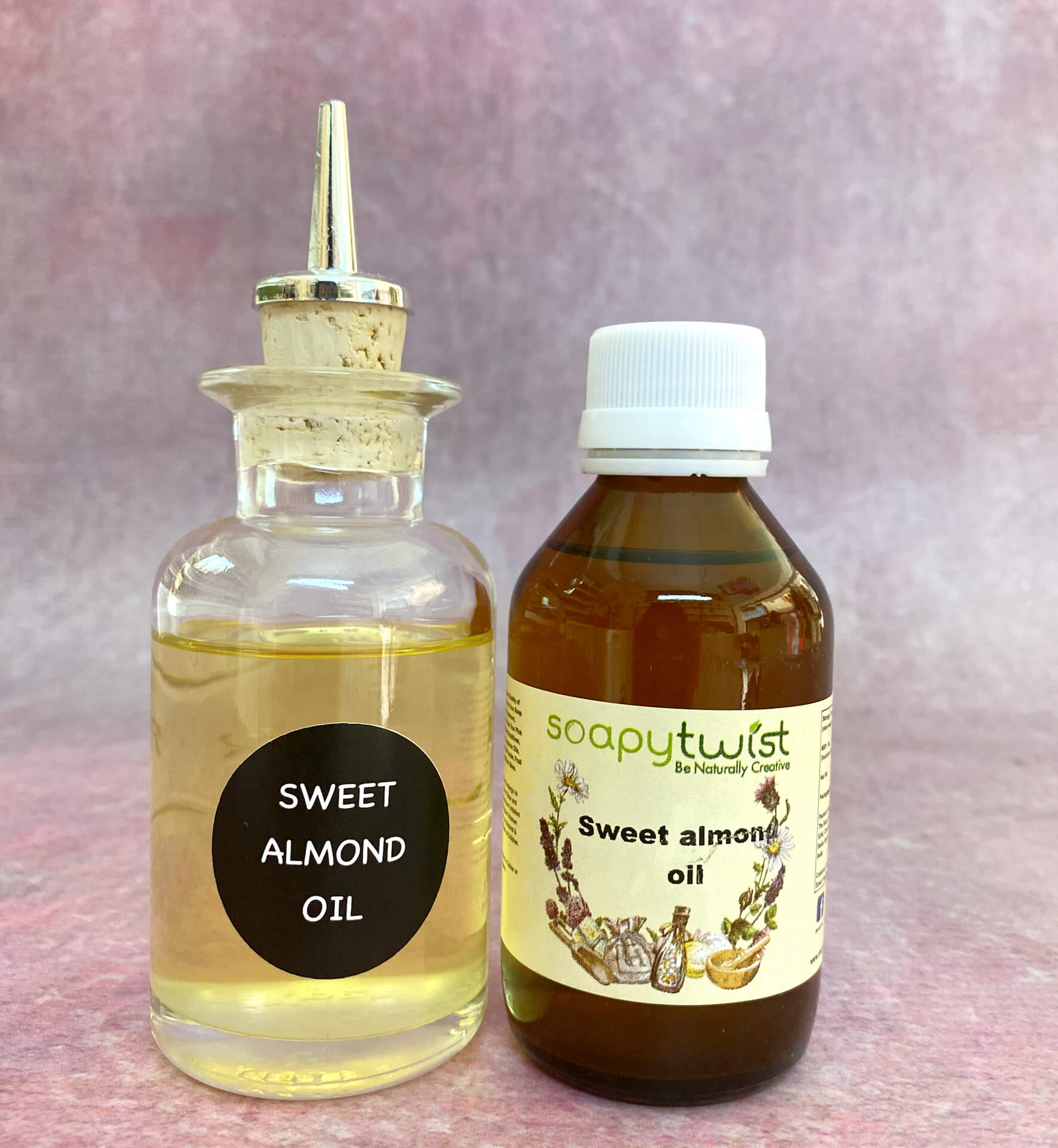 Sweet Almond Oil
Sale price

₹ 340.00
Regular price

₹ 400.00
(/)
Sweet Almond oil is full of fatty acids and has a lightweight moisturizing consistency. It provides excellent cleansing and nutritional properties to your DIY Bath & Body Projects.
Soapy Twist is amongst the top tier manufacturers of 100% pure and cold pressed Body Oils. Our Cold pressed oils can be used in your skincare and haircare routines, as well as in DIY projects such as lotions, cold processed soaps, shampoo, conditioner, hair masques, and more. We also have bulk purchase available for all our products at great offers. 
For any queries email us at info@soapytwist.com
Sweet almond oil is often termed nutritional powerhouses owing to its rich nutrition, vitamins, and essential fatty acid content. It is an antioxidant-rich oil with powerful anti-inflammatory and antibacterial properties.
The main fatty acid constituents of Sweet Almond Oil are: Oleic Acids (Omega 9), Linoleic Acids (Omega 6), Stearic Acid, and Palmitic Acid.
Sweet almond oil helps in removing toxins, opening pores, and retaining moisture. The vitamins present in the oil help in boosting collagen production which promotes healthy young-looking skin. The oil helps in balancing sebum and the fatty acid content present in the oil provides deep hydration and retention of moisture into the skin. It also helps in softening, smoothening, and conditioning the skin. The oil also helps in reducing the appearance of scars, dry skin concerns, redness, and skin irritations.  Sweet Almond Oil's natural Vitamin E content acts as a potent antioxidant that contributes to smooth, healthy-looking, blemish-free skin.
To nourish and cleanse skin, to maintain its suppleness, and to protect it against damage caused by UV radiation, blend 5 drops of Sweet Almond Oil with 1 drop of Jojoba Oil and 2 drops of Honey, then slowly massage it into skin in a slow, circular motion. Leave it on the skin for 10 minutes before rinsing it off with a mild natural skin cleanser. 
Sweet Almond Oil builds and repairs skin's collagen layer, which keeps skin looking firm yet soft, contributing to the appearance of youthfulness. Applying Almond Oil topically in skin care or in a massage can prevent skin from losing moisture
Sweet Almond Oil can help in strengthen and thicken nails that are thin and brittle, warm a small amount of Sweet Almond Carrier Oil and apply 1 drop to the nail, massaging it into the cuticle. Repeating this vitamin-rich treatment weekly will result in clearer, smoother, healthier nails.
The antibacterial nature of the oil proves very effective in treating dandruff. Its high absorption properties allow it to provide deep nourishment to the scalp and promote the growth of stronger and shinier hair.
Specifications:
Comedogenic Level (0 to 5) : 2 
Recommended Skin type : Dry , Sensitive 
Recommended Hair Type : Dry to Normal 
Method Of Extraction : Cold Press
Botanical Name: Prunus Amygdalus Dulcis
Recommended for Melt and Pour : No
Recommended for Cold Process : Yes
Recommended for Liquid Soaps : Yes (upto 0.3%)
Recommended for Lip Products : Yes
Disclaimer: Do your research before using any product. Always patch tests before use. Soapy Twist products are not specifically designed for any particular skin type and are not intended to diagnose, treat, cure, or prevent any disease. All information provided is for educational purposes only. All our products are for external use only.
Other Information
MRP: Rs. 510.00 (100g) / Rs. 1340.00 (400g) / Rs. 2388.00 (1kg)
Country Of Origin: India
Packed & Marketed By: The Soap Crafters 5245 Chowk Bara Tuti Sadar Bazaar Delhi-110006
Sweet Almond Oil
Sale price

₹ 340.00
Regular price

₹ 400.00
Choose options